Norm Barrett can be contacted at: [email protected]. 
SCRANTON, PA – PROJECT 105, September 8, 2022
The fabricator/welder began working on the interior cab panels that are rusted badly. The Steamtown engineer with me as conductor moved the 105 from a storage track to a shop track in anticipation for a work detail. (See photos) The morning of September 10th a group met at the Steamtown shop. Volunteers included Robert and Allan Held, Frank Merkel, Benny Bellucci, Paul Davis, and myself. Steamtown shop staff, Mike T. and Alex moved the 105 into the shop and assisted when needed throughout the day.
Our goal for the day was to install one auxiliary oil tank and rebuilt radiator along with some prep work on the cab interior. There was a lot of prep work lining up the oil tank to mark the flanges for drilling the holes for fastening. We found it necessary to fasten the radiator to the tank to accomplish this task. In doing so we found a water line that will need to be repaired before tank and radiator is secured. There are also some other small items that need to be done as well.
In the cab, the fabricator removed several bad panels, the cab was cleaned up and wall areas we lightly wire brushed before applying rust converter.
By now, we were short on time, so we decided to cover both engines with new tarp material which was donated by a local business. (See photos) I will be securing some miscellaneous parts and supplies and anticipate that we can schedule another work detail in October.
Special Thanks to those volunteers that were available to help today.
Reported by,
Norman J. Barrett,
105 Project Chairman
---
---
Project 105 News Update, July 2021
Special Update by Guest Contributor Dan Myers
Middletown and Unionville's (M&NJ) seventy-five year old GE 44-tonner No.1 had its appointment with the grim reaper on Monday July 26 and had been completely scrapped by the end of the day on Tuesday July 27th.
With the exception of a quick trip to Burlington, VT in January of 1964 to open the Vermont Railroad, the engine has spent all of its 75 years in the Middletown engine house. M&U / M&NJ #1 should qualify as an honorary O&W locomotive, as it traveled to the O&W shops twice a month for expert TLC from the time it was delivered in 1946 until the O&W closed in 1957.
The scrapping happened on short notice, but through the hard work of society member and M&NJ General Manager George Pellissier and the generosity of the management of the East Penn Railroad, LLC and Houston-based salvage firm Smirail, a great many critical pieces from #1 were saved and are being moved to Steamtown for O&W 105.
Among the items rescued were a pair of power assemblies removed in 2015. Each assembly consists of two cylinders, four heads, four pistons and four connecting rods. A complete fuel injection pump, electrical components and a pair of seats, missing from 105 when it arrived in Steamtown, were also saved.
Some of the parts have already been delivered to Steamtown. In coming weeks the balance of the parts will be moved to the container that Norm Barrett acquired and set up at Steamtown for 105 spares.
Center cab locomotives like #1 consisted of two completely separate and independent systems including a prime mover, generator, air brake compressor, etc. No. 1, No. 105 and all of their center-cab brothers were capable of functioning (at reduced horsepower) even if one complete system failed.
Photo 1. One side of M&NJ Ry's #1 was re-lettered to its "as delivered" (1946) appearance at the M&NJ Ry. Historical Society's last Slate Hill picnic in 2006. The locomotive was out of service at the time due to a "hard coupling" that broke one engine and generator loose from their mounts in the early 80's. Several years later, vandals broke into the engine house at Middletown under the ownership of Chartwell International and stripped all of the copper from the two main generators of #1, effectively ruining any possibility for an operational restoration.
Photo 2. A partial salvage operation by East Penn in 2015, intended to rescue cylinder heads, destroyed much of one end of the locomotive and essentially doomed any chance for even a cosmetic restoration.
Photo 3. The four cylinders and heads shown in this July 26th photo were removed by Houston salvage firm Smirail and donated to the society. Most GE-44 tonners featured Caterpillar D-17,000 engines, originally designed for stationary use in the Texas oil fields. These V-8 engines featured 5 3/4″ bores and stroke of 8". They were rated at 190 horsepower at 1,000 RPM.
Photo 4. No. 1 is loaded on a flatbed truck for its final trip to the port of Albany for export as steel scrap. Careful study of this photo will show that the four cylinders and heads seen in the previous photo have been removed and set aside for the 105.
Photos 1-3 by D. Myers, Photo 4 by Chris Clemons-Smirail.
Special Note from Project 105 Chairman Norm Barrett:
I have to say, it was a hectic day with many calls between Dan and myself and of course the calls he made to George and the scrapper. Thanks to Dan's persistence we now have parts we need as well as some spares. Dan rented a trailer and brought the parts to Steamtown where they were unloaded and put into the container. We now have to get the rest of the parts brought down at first chance.
Hats off to Dan!
Norm Barrett can be contacted at: [email protected]
Dan Myers can be contacted at: [email protected]
---

Project 105 News Update, March 2021
Although the Project 105 volunteers have not been able to work on the locomotive we continue to seek donations and grants towards funding the completion of the restoration. It is anticipated that the Steamtown National Historic Site may be able to allow volunteers to return to the Park operations and various restoration projects sometime in the second half of 2021.
Late last year, one of the attendees of our ZOOM meetings, a fellow O&WRHS member Chris S., donated the funds to purchase a 20 foot shipping container to be used to store parts for our locomotive. Due to the winter weather of snow storms and road closures there was difficulty in moving the container from New Jersey (at no cost). Fortunately we had success in March. A local trucking company, Keiser Transport & Hauling, picked up and delivered the container at half the cost he normally charges. The employees at Steamtown prepared a site location close by where we work on the 105 and then unloaded and set the container. (See Photos) As part of our agreement with Steamtown we will paint the container to blend in with the buildings. We are waiting for an estimate on that work.
Donations are greatly appreciated. Checks should be made out to O&WRHS and noted for Project 105. They can be mailed to the Society P.O. Box 713 Middletown, NY 10940-0713.
Norman J. Barrett
Project 105 Chairman
Norm can be contacted at: [email protected]
Editor's Note: Special Thanks to Norm Barrett for providing this new column and update and for all the hard work he and all the volunteers and benefactors are doing to make this restoration possible.
---
Project 105 News Update, February 2021
Scranton, PA – January 11, 2022 was a good day for Project 105. After delays caused in part by the Covid 19 pandemic the second re-cored and restored radiator was finished and ready for pick-up. I proceeded to the radiator shop where the radiator was loaded into my truck. I then drove to the Steamtown National Historic Site. Upon arrival I was assisted with the unloading and storage by a NPS employee using a forklift. The radiator was placed into our storage container for safe and secure storage until such time we are ready to install it on the locomotive.
It is anticipated that once Spring arrives along with warmer temperatures, we will be able to resume working on the locomotive. As most of the work can be done outside of the shop there should be no issues.
Project 105 appreciates the generous grant from the National Railway Historical Society, Inc. along with a grant from the Lackawanna Heritage Valley National and State Heritage Area in Partnership with the National Park Service as well as private donations.
Norman J. Barrett
O&WRHS Project 105 Chairman
---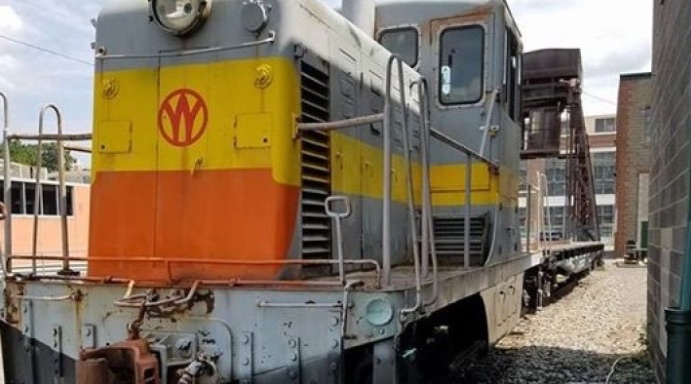 Fund raising is ongoing. The second radiator is being recored and additional parts from the M&NJ will be arriving as soon as this week.
The one CAT engine has a cracked head assembly. It has been welded a couple of times and is no longer of use. The M&NJ #1 has donated a number of useable heads so now we have spares. The heads are a two cylinder unit that attaches to the engine block.
We still need funds for sheet metal repairs, to replace the cab floor, complete the cab windows weather seals, redo the cab seats and probably a lot of other little things. Last but not least apply a quality paint job.
As soon as this pandemic gets under control Steamtown may open their shop to volunteers. At that time I hope we can reorganize our volunteer team and arrange a couple of work sessions.
It will take time and money to complete.
To those of you that have given already, The Society gives a SPECIAL THANKS!
If you haven't made a donation yet and would like to, please click on the banner or link below.
Donations to the project can be made through the gofundme link below:

Special Thanks To Joey Senese for creating the gofundme Page.